There are some things that you can use to help the homeless. These include socks, non-perishable food, reusable containers, and unscented toiletries. These are things that are necessary for a daily routine, but are often overlooked. You can find these items at a local store, or order them online and have them shipped directly to the homeless.
Socks
Socks are a very important item in homeless shelters. They can make a huge difference in someone's life. They keep feet warm, prevent skin from deterioration, and prevent infections and blisters. Because they are dependent on their feet for transportation, they are particularly important for the homeless.
Many homeless people walk long distances to find a place to sleep or find food and showers. They also need to travel to medical appointments and job opportunities. These long walks make it difficult to keep their feet dry and warm, especially when the weather is cold. Moreover, most homeless shelters close at night.
Non-perishable foods
Healthy, non-perishable food is one of the most important items for the homeless. These foods provide the homeless with a well-balanced meal and help fight the many nutritional deficiencies they may suffer from. Ideally, they should be free of sugar or excessive salt. It is also important to ensure that food donated does not contain toxic substances or are recalled. The containers used for storing food should also be properly cleaned and sanitized. Although there are not many organizations that accept fresh fruits or vegetables, it is better if you can donate canned or frozen food.
People can also donate money and volunteer their time to help non-perishable food. Usually, soup kitchens require food donations, especially non-perishable ones. Soup kitchens provide daily meals to the homeless. Volunteers are sometimes needed to cook and serve meals. Some local anti-homelessness coalitions may also ask for financial donations.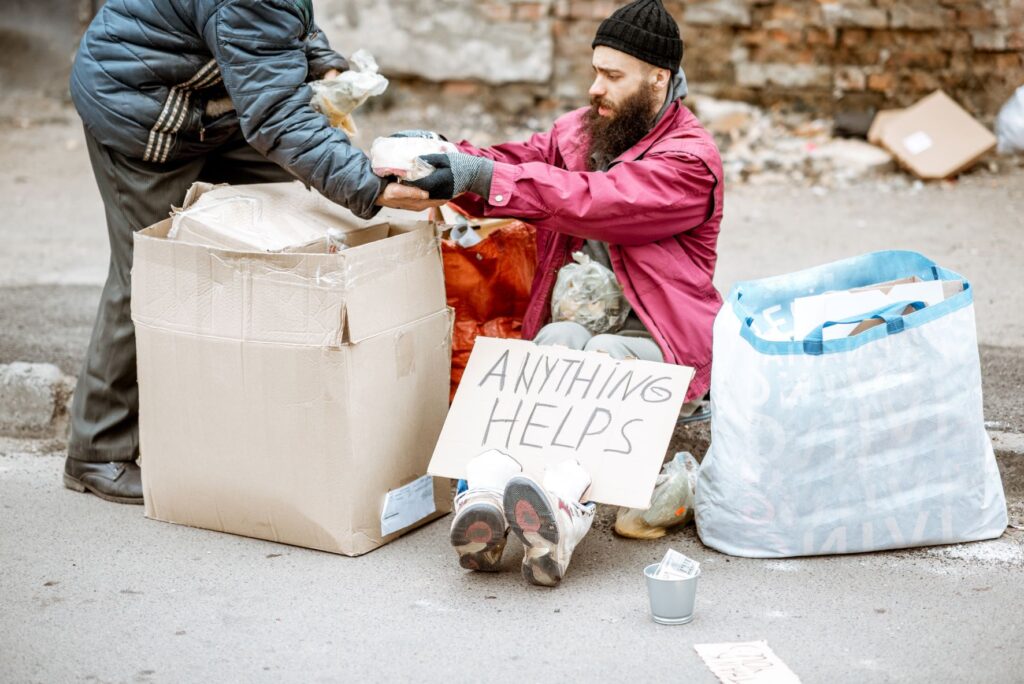 It is a great way for people in need to donate shelf-stable food to a local food bank. This type of food may not be the best for everyone. Sometimes, the most convenient food for the homeless is not always the best. For example, canned beans can be stored at room temperature for up to two years. However, dried beans can be stored for up to 10 years, depending on their packaging.
Non-perishable food can also be donated to food banks through food drives organized at your school, work, or community. Many organizations run food drives all year long, and they're especially helpful around the holidays. Unsweetened, unpackaged applesauce is a great option for quick, nutritious snacks. It is high in fiber and vitamin A and can be stored well at a food bank. You can also donate canned beans, which are high in protein and fiber. However, be sure to choose low-sodium varieties.
Reusable containers
One of the most useful uses of reusable containers for the homeless is to store food at shelters. Many of these shelters offer free food to those who cannot package it themselves. Many of these homeless people have children and must save food for the future. The most expensive items for homeless are diapers, baby wipes, and clothes. These items can be kept in reusable containers to ensure that no one goes hungry.
Reusable containers can also be used for growing food. These containers can produce up to 400 pounds of produce per month. These reusable containers can be used to grow fruits, vegetables, herbs, and mushrooms. These food can be used to feed local food kitchens or given to the homeless. Homeless organizations are already incorporating shipping containers into their daily activities. An architecture firm in Los Angeles has created 84 units of affordable housing using shipping containers. In London, shipping containers are used to serve meals for homeless people.
Toiletries that are unscented
It is best to donate unscented toiletries to the homeless. This is because some homeless individuals have sensitivities or allergies to scented products. It is also important to select items that are less abrasive. Donated items should be weather-resistant, as homeless people might be exposed to extreme weather conditions. Winter clothes are also essential, as they help the homeless stay warm and dry during the cold winter months.
These toiletries are great for travel. These items could include toothpaste, shampoo, lotion, lip balm, and deodorant. You should choose products that you know your recipient will enjoy, even if you have a tight budget. Consider buying a travel-sized, reusable soap or shaving kit.