The classic economic dilemma is "Should we give money to homeless people?" Our heartstrings are tugged at by the desire to alleviate suffering. On the other, the thought of a donation encouraging poor behavior makes us uncomfortable. We'll be discussing the evidence-based benefits as well as the costs of directly giving money for the homeless in this article.
An evidence-based approach to giving money for the homeless
While direct cash transfers aren't a silver bullet in tackling homelessness, they do seem to have some positive impacts. One study found that cash transfers made to recipients were more likely than those who did not receive them to save money and move into stable housing faster. They also retained more than $1,000 more in savings over the course of a year. In addition, they made more positive social changes, such as investing in children's well-being and boosting family support.
The study involved a control group and a group that received cash. Researchers compared the two groups over a year to see how the recipients spent the money, and how much they changed. Those who received cash were more likely to spend money on food and less on rent, clothing, and other items.
Foundations for Social Change, a Vancouver nonprofit, decided to try a new way to help the homeless. They partnered with the University of British Columbia to give homeless people thousands of dollars. These participants were followed up for 12-18 months by the researchers to determine if they would remain in a stable environment.
Benefits of giving money directly to the homeless
Giving money directly to the homeless can have a significant impact on their lives. For example, researchers at the University of British Columbia recently conducted a study where they gave 7,500 Canadian dollars 50 homeless people. After one year, they found that the recipients had retained over $1,000 of their savings. They also experienced less temptation and increased their food security.
Although many homeless people are entitled to benefits, it can be difficult to claim them when they are homeless. They often have difficulty accessing a bank account and are often unable to make an appointment due to moving from one shelter to the next. Cash transfers can help them quickly move into housing, which ultimately saves shelter systems thousands of dollars each year.
Giving money directly to the homeless is a great way of giving back. The homeless often need money for essential needs and necessities. Without proper care, they could become trapped in a cycle of homelessness and rough sleeping. Homeless people have many reasons for needing money, and some of them have medical conditions that make it difficult to pay for their own medical care.
The national homelessness crisis must be addressed. To help the homeless, government policies must be changed. They require the free housing and full-funded mental healthcare. This is vital because their current system is failing them severely. Without these policies, the homeless population will continue to suffer and will not recover.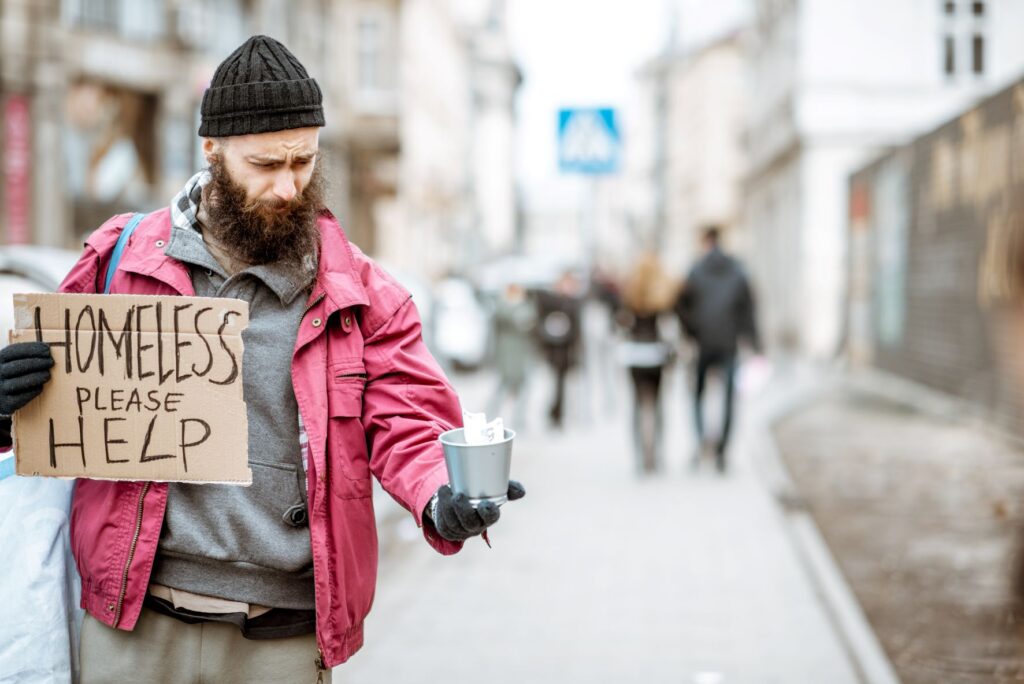 Volunteering to help homeless people is another way you can make a difference. By volunteering your time and services, you can learn more about the homeless and meet their immediate needs. This can include behind-the-scenes work, such as cutting vegetables and sorting clothes. There is no age limit for volunteering with the homeless.
You can also give money directly to the homeless. You can donate toys, DVDs, and stuffed animals. You can also donate household goods like diapers and hygiene products. You might also consider setting up a small library in your community for homeless service providers.
People who are homeless are more vulnerable to poverty and job loss. Without the protection of their families and friends, they often struggle to survive. Oftentimes, they turn to friends and family for help. Without a safety net, they are forced to fend for themselves. Thankfully, there are programs available to help these people.
In 1983, the National Alliance to End Homelessness was founded. It has grown to include more than ten thousand affiliated groups and works with policymakers to end homelessness nationwide. The nonprofit organization advocates for the rights of the homeless and educates policymakers about the issues. It also provides technical and training assistance to communities. Charity Watch rates it as an A+ charity.
Giving money directly to the homeless can be costly
Giving money directly to the homeless can be an effective solution for homelessness, but it also comes with its own set of costs. Researchers studied the effects of direct cash transfers on homeless people. They found that recipients were more likely than the control to move into stable housing faster, keep more of their savings over the year, and increase their food security sooner than the others.
The New Leaf Project was a pilot program conducted by researchers from the University of British Columbia and the Foundations for Social Change in Vancouver. The researchers provided lump sums totaling $7,500 Canadian dollars for fifty homeless people in the city. They then followed up with the recipients for 12 to 18 months to assess the impact of the funds.
Chronic homelessness can be costly for city services and taxpayers. It can also lead to mental health problems and substance abuse, which cost the government money. It is therefore important to focus resources on helping those in need by helping them find housing. The National Alliance to End Homelessness estimates that the number of people in need of shelter will hit crisis levels in January 2020.
Homeless people have high costs to society, including medical costs and education. The state is more concerned with helping homeless people get back on their feet than it is with helping them transition into society. Tax dollars are often wasted in most efforts to tackle homelessness. Los Angeles spends more than $2 billion annually just to maintain the status-quo.
While giving money directly to the homeless can be a great solution, there are also costs. The government might not be able get the funding to those who are in greatest need. Governments on a statewide level are struggling to get these funds to people in need. However, nonprofit organizations are providing financial assistance to the homeless.
Homeless people are often exposed to harsh elements and lack proper nutrition and comfort. They might become depressed and resort to drugs or alcohol to survive. They may need emergency medical attention or psychiatric treatment. Homeless people are often arrested. These arrests can lead to jail time or fines that are too costly for the victim.